Christmas is often a time when people indulge, treat themselves and take extra time to relax and be with those they love. But it can also be a time of excess – with lots of trees, wrapping paper, food and gifts going to waste.
My family is big on doing what we can to help the planet, and this year we are consciously trying to make it our most eco-friendly, sustainable Christmas yet. The climate crisis shouldn't come as a surprise to anyone, and following this year's COP26, it is vital that we make the effort to all do our best to be as sustainable as possible. Small changes can make a huge difference in reducing our environmental footprint – especially during the Christmas period. So, here are a few ways you can make your Christmas just a little bit greener.
1. Rent a tree
Around 8 million Christmas trees are sold in the UK alone every year and around 6 million go to waste every year, with 14% of people saying that they even throw out their artificial tree every year. Investing in a good quality artificial tree that you will use for years is a good step, but an even better idea is to rent a tree. An example of this is "Love a Christmas tree [which] offers real Nordmann Firs delivered to your door from their Leicestershire family farm from £20. You decorate and care for the tree during the festive period, then they'll pick it up and replant in January. Win, win" (countryliving). You should also look out for the 'Grown in Britain' label or Forest Stewardship Council (FSC) 'seal of approval' to make sure your tree has been grown to environmental standards. After Christmas, go to recyclenow to find out about drop-off points in your area, so that your old tree can become wood chippings or a habitat for birds and insects.
2. Reusable crackers
Although perhaps a little more expensive initially, buying reusable crackers saves huge amounts of waste year on year. Crackers are one of the worse environmentally during Christmas as they are single use. Even if you don't end up buying ones you use year on year, purchasing ones that are made of cardboard or fabric that you can then recycle is key. Here are a few great ones: personalised recyclable crackers, scandi fabric crackers, fill with your own gift crackers.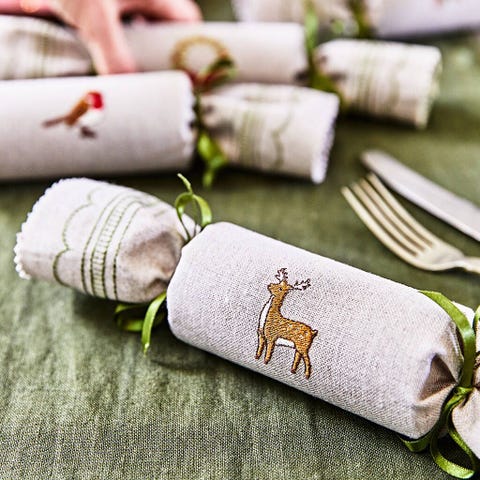 3. Wrap gifts with recycled paper or fabric
As much as sparkly, shiny wrapping paper can look great – it cannot be recycled. Opting for recycled paper instead or fabric means that you can even recycle the paper or reuse it for next year or another occasion. More and more shops are selling recycled paper these days so it an easy thing to implement to make your Christmas sustainable.
4. Invest in a reusable advent calendar
Buying an advent calendar that you or a friend or family member can fill with different things each year is not only eco-friendly but also great fun. It is a fab way to personalise your countdown to Christmas as you can make sure that each door or pocket has something you genuinely like and will look forward to opening. Alternatively buying an advent calendar that is sustainably made and contains environmentally friendly gifts inside is an important thing to consider.
5. Reduce your food waste
Christmas is a time where most people indulge in a lot of food and drink – and the Christmas day feast is an event that lots of people look forward to each year. But did you know that every year the UK wastes approximately 7 million tonnes of food, a staggering 270,000 tonnes of which is consumed at Christmas alone, including: 2 million turkeys and 5 million Christmas puddings. By buying less or being aware of how much you need and consume, you can reduce how much food you waste.
6. Consider your outfit
Christmas parties and events often means a shopping trip to find the perfect thing to wear. Whilst it is a good idea to shop sustainably throughout the year and not just at Christmas, the festive period is particularly bad eco-wise. Sequins and glitter (found on a lot of 'christmas' clothing) cannot be recycled as they are made from PVC and currently there are no biodegradable substitutes. For statement, eco-friendly designs try: Reformation, Sezane or Rouje for high-quality sustainable alternatives. You will most likely also find something that you will want to wear after Christmas too! Alternatively ask your friends or family if you could borrow something or look for second hand pieces on apps such as Depop and Vestiaire Collective.
7. Quality not quantity – gift an experience
Many people shower their loved ones with copious gifts during the festive period, which is lovely – but not always particularly eco-friendly. I have always been of the mindset of quality not quantity when it comes to gifts, by taking my time to buy or make the perfect, individualised gift or two. Just under half of UK adults say they have received gifts they don't want and will never use. So why not take extra time to find a gift that you know the person will love and use beyond Christmas day!
8. Think about your lights
Using LED lights on your Christmas tree and around the house is a great eco-alternative, as it uses up to 80% less energy and looks just as good. You can also switch to solar-powered lights outdoors and put both sets on a timer. The average UK household lights their tree for 6 hours a day, and the UK spends a total of £22.3 million lighting their trees throughout December. So, you'll not only make environmental savings, but your energy bills will be reduced too.
9. Eat seasonal local produce
Buying locally produced products when they're in season can ensure your shopping basket is more sustainable as it reduces the energy that might have been spent growing foods out of season. By knowing your logos, you can spot produce that has been grown in the UK. To help you, the GIKI app provides ethical and sustainability information about more than 280,000 supermarket products.
10. Eat more plants
Whilst I appreciate this step isn't for everyone, eating less meat during the Christmas period is a great way to become more environmentally friendly. Perhaps you could enjoy your Christmas turkey on Christmas day and try out a nut roast on boxing day- or go fully veggie, there are plenty of great meat alternative ways to still have a yummy and special Christmas dinner.